September 3rd, 2013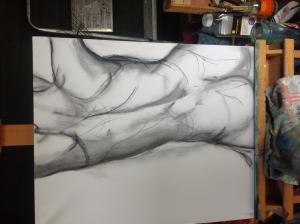 Finally finished in the surf, which will be uploaded to the site tomorrow and started a new painting called the dancer. As previously stated i have two main passions for subject matter, the sea and the female form. This one although termed the dancer is a study of the female form, the plan and there is always a plan is to paint the nude figure of the model and then cover her in the see through slip that she was wearing, hopefully this will show the form and bring to life the movement of the piece.
I always start off with a plan, which usually changes so lets see how the painting develops as they all seem to have a life of their own. It never ceases to amaze me as the physical act of creating my paintings seems to exist on another plain, i'm sometimes not conscious of what is actually happening and time seems to have no relevance. well thats enough of the psycho babble initial charcoal drawing on canvas on left.


August 31st, 2013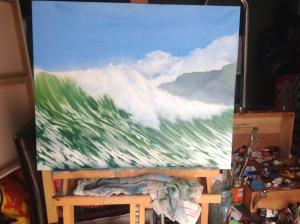 OK, been sat in the studio finishing off the painting 'in the Surf' work in progress picture on the left, and sometimes you get that close to it you don't know when to stop. So I have spent most of the afternoon like some demented loon looking at it from all different angles, walking backwards and forwards, left to right with a fine sable brush loaded with paint and itching to use it.
Must have made at least three strokes on the canvas all afternoon, frustration and pain running rife time is running away from me as usual. But hey who cares, decide to take a chill pill as my daughter says, crack open a beer relax and write this short update.
Which ever way it cuts this will be finished by Monday and on the site....... Maybe!
August 30th, 2013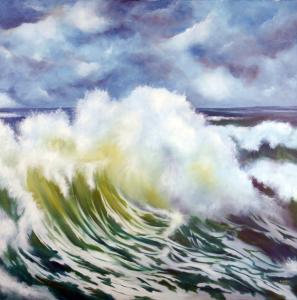 Just returned from a field trip to the Cornish coast, which i guess is my spiritual home if the truth be known. Every year we, thats my wife and i and the kids make the 6 hour trip to the coast. I think that we are at the stage of them humouring me, it for them is probably a toil and not a pleasure for me it is sheer enjoyment.
Each time we return it inspires me to create another set of paintings about the sea, the pure majesty, violence and sometimes serenity never fails to move me. Its ever changing never still always inspiring.
So now i'm back, fully recharged in the studio and producing the next wave (excuse the pun) of costal Seascapes.